I stayed at Ryvanz-Mia Childcare to learn about its mission and volunteer at the school. Ryvanz-Mia is located in Kpando, Ghana, and was founded in 2006 by Mrs. Esime Djentuh, affectionately known as Mama Esi or Grandma. She started the Orphanage after a tragic event as a source of comfort but also to fulfill her long lost dream of helping orphaned and vulnerable children in her community. She started with two children which later grew to over a hundred children in a space of a year. She was providing the children with a place to sleep and also supporting them with their school needs.
Due to old age and Health issues Mama Esi has stopped operating the orphanage and she is now only fostering. She has opened a school called Hope Memorial School that helps some orphans around the community and also provide education needs for some children around the area at a small fee. I was privileged to help teach Nursery classes at the school every morning of my stay there. The children were eager to learn and had a lot of energy. I enjoyed playing games with them, dancing to some of their nursery rhymes and helping them learn their letters, numbers and days of the week. I also tried to bring some new ideas on how they can take care of the children during their stay at the school to not make their days long but also to help the teachers have some resting time.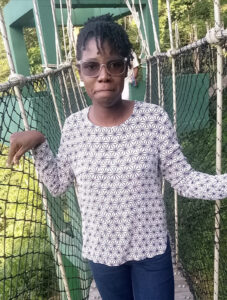 We also had some time to visit Amedzofe Canopy walkway which is situated in Ho in the Volta region of Ghana. The walkway was built near Ote waterfall which gives the place a beautiful scenery and some motivation to go on the walk way to have a closer look at the water fall. I learnt that the place was built to conserve a very rare species of frogs called the slippery frog that are found around the area and some pangolins. The frogs are also a delicacy to the local people around the area and help preserve it from getting extinct they built the place. For someone who is extremely afraid of highest it was an unforgettable experience and I am just glad I was able to go through the whole walkway and enjoyed the waterfall closely with some help of course. On our way back we passed by Tafi Atome Monkey sanctuary, though we were not able to go in we had a glimpse of the monkeys outside as it was getting late.
We also had the privilege to teach Mama Esi, some of the stuff and children at the orphanage how to make liquid soap and a simple bar soap. The most fascinating thing to me was the fact that even in her old age Mama Esi roasts groundnuts and makes chips to sell and help provide for the foster kids and one of the orphans that are still around the Home. I love how kind and compassionate she is towards helping people and her commitment to raising children from different backgrounds.
I am grateful for the opportunity to have volunteered at Ryvanz-Mia Childcare. It was a rewarding experience to spend time with the children, learn more about the orphanage's mission and to also have some time to rest and enjoy the place. I mostly enjoyed the food Mama Esi made for us and the fact that she considered my inability to eat peppery food.
In conclusion, my visit to Ryvanz-Mia Childcare was a positive experience. I was impressed by the work that Mama Esi and the staff are doing and I would encourage anyone interested in volunteering or donating to consider Ryvanz-Mia Childcare. I hope I will visit the Home again in the near future.
From: Funani Matemba-Malawi 2023