Help us to make a difference
Ryvanz-Mia Childcare is a registered organization in Ghana and now manage by Ryvanz-Mia Charity, a 501(c)3 nonprofit organization in the U.S.A. Consider all donations via this organization. We count on your support to help children in Kpando, Ghana to learn, grow and strive. All donations are tax-deductible in the U.S.A. and directed to our programs.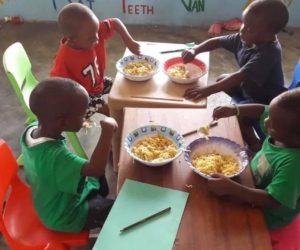 We couldn't exist without its treasured supporters. From raising money to volunteering or spreading and sharing the word, only you can help us fulfill our mission. We value every contribution, big or small. Even spare change goes a long way. Every donation we receive is cherished and used wisely.
"Ryvanz-Mia Childcare" is a Nonprofit organization. All the contributions are tax deductible if you are in the United States. No goods or services will be provided in exchange for the contribution. If you have any questions about viewing your giving history, please feel free to contact us at ryvanzmia23@gmail.com
Western Union / Moneygram
MTN Mobile Money
Bank Transfer
Western Union / Moneygram
You can send your Donation to Ryvanz-Mia Childcare via Western Union / Moneygram at following address.
Name of Receiver: Mrs. Regina E. Djentuh-(the founder.)
Receiver Address: P.O.Box 161, Kpando Volta Region Ghana
MTN Mobile Money
Bank Transfer
Got no money & still want to help?
We believe in addressing the cause rather than just the symptom, which is why we invest large amounts of time and energy in providing services to underserved communities in Ghana. Ryvanz-Mia Childcare promotes our children's growth to realize their potential and improves communities' basic facilities so everyone can access necessities. Learn More