Help us to make a difference
Ryvanz-Mia Childcare in Ghana is now managed by Ryvanz-Mia Charity, a 501(c)3 nonprofit in the U.S. Please consider making tax-deductible donations to support children's education and growth in Kpando through our programs.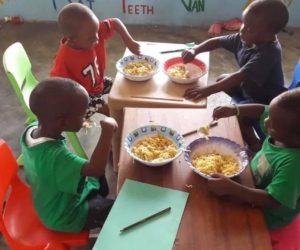 Our supporters and volunteers are very important to us. You can assist us by volunteering, spreading the word, or donating money. Any contribution is valuable, even small donations.
"Ryvanz-Mia Childcare" is a Nonprofit organization. All the contributions are tax deductible if you are in the United States. No goods or services will be provided in exchange for the contribution. If you have any questions about viewing your giving history, please feel free to contact us at ryvanzmia23@gmail.com
Western Union / Moneygram
MTN Mobile Money
Bank Transfer
Western Union / Moneygram
You can send your Donation to Ryvanz-Mia Childcare via Western Union / Moneygram at following address.
Name of Receiver: Mrs. Regina E. Djentuh-(the founder.)
Receiver Address: P.O.Box 161, Kpando Volta Region Ghana
MTN Mobile Money
Bank Transfer
Got no money & still want to help?
There are other ways you can participate in our program and projects. Whether you get involved with RMC as a donor, potential RMC supporter, volunteer or partner, advocate, or ambassador of RMC, you have the power to change a child's future for the better.